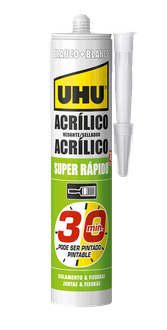 UHU ACRYLIC SUPER FAST WHITE 30 MINT 300 ML
product description
High quality, plastic-elastic extra white sealant on an acrylate dispersion base for sealing joints, seams, crevices and cracks. Paintable after 30 minutes! Easily workable and to tool. Can be used indoors and outdoors. Use silicone sealant for permanently wet areas.
Field of application
Suitable for the sealing of joints with minor movement, seams and crevices in door and window frames, window sills, prefab elements, stairs, skirting boards, walls, gypsum boards, ceilings, corrugated boards, chimneys and conduits and gutters. Also suitable for sealing small cracks and cracks in walls. Adheres to brickwork, (cellular) concrete, masonry, plaster, wood, metals and hard PVC. Not suitable for bitumen, PE, PP and PTFE.
Properties
• paintable after 30 minutes
• easy to tool
• colourfast
• sandable
• can be used indoors and outdoors
• UV and weather resistant
• not corrosive for metals
• extra white
• easily workable
• permanently plastic-elastic
• temperature resistant between -20°C and +75°C
Preparation
Working conditions: Use at temperatures between +5°C and +40°C.
Surface requirements: Surfaces must be dry, clean and free of dust and grease.
Technical properties
Moisture resistance: Good
Water resistance: Limited
Temperature resistance: From -20ºC to +75ºC
UV resistance: Good
Mildew resistance: Nil
Paintability: Very good
Elasticity: Limited
Filling capacity: Good
Technical specifications
Chemical base: Acrylic dispersion
Colour: Extra white
Viscosity: Pasty
Solid contents: approx. 85 %
Density: approx. 1,68 g/cm³
Shrinkage: approx. 15 %
Hardness (Shore A): approx. 20
Max. allowed distortion: approx. 7,5 %
Elongation of rupture: approx. 150 %
---
We Also Recommend
---