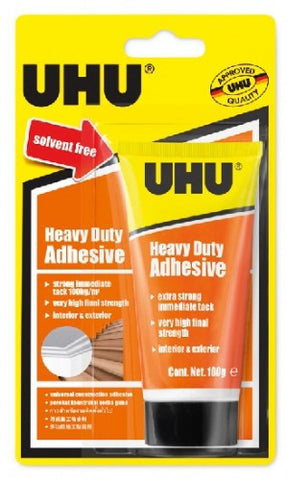 UHU HEAVY DUTY ADHESIVE 100 G
Detailed Description UHU Heavy Duty Adhesive 100 g blister
Strong universal mounting adhesive for indoor and outdoor use.
High initial adhesion - 100 kg / m2.
Replaces nails and screws.
White, elastic, gap-filling and is paintable.
Does not contain solvents.
SCOPE OF USE:
It combines wood, metal, PVC, ABS, plaster, stone, tile, plaster and polystyrene foam concrete, stone, plaster, wood or chipboard.
one surface must be absorbent.
Not suitable for PE, PP and places with permanent moisture.
DIRECTIONS FOR USE:
On dry and clean surface, apply one-sided adhesive - dots or stripes.
Firmly against for 10 seconds.
If necessary, fix heavy objects.
Let dry for 24 hours.
DONE!
Use within 24 months from the date of purchase.
---
We Also Recommend
---