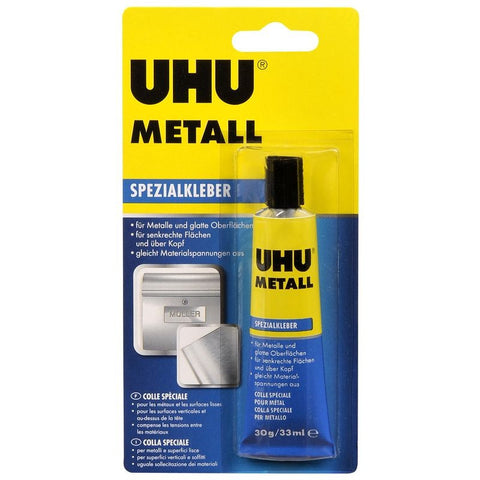 UHU METAL GLUE 30G BL.
fast gel contact adhesive
for metal to metal and metal to many other materials
particularly suitable for bonding on vertical surfaces
temperature resistant from -20°C to + 125°C.
UHU metal contact adhesive, the non-drip adhesive for super strong and high heat resistant bonding of metal with metal and metal in combination with many other materials. Its gel form enables even and efficient application and spreading of the adhesive without stringing. Practical for bonding on vertical surfaces and overarm work. The adhesive film remains elastic and balances the material tension. Temperature resistant from -20°C to +125°C.It is ideal for craft work, repairs and construction.
| Container | Content |
| --- | --- |
| Tube/Blister | 30g |
Materials
Glues metal and metal alloys (steel, aluminum), also in combination with wood, glass, leather, rubber and many plastic materials. Not suitable for Styrofoam®, soft pvc, PE, PP
Use and Handling Instructions
Surfaces must be thoroughly clean, dry and free of dust and grease. Apply a thin and even coat to both parts of the assembly - porous materials possibly several times. Let dry. Once dry to the touch (after approx. 10 minutes), press the parts together briefly and firmly. After assembling correction is no longer possible.
---
We Also Recommend
---