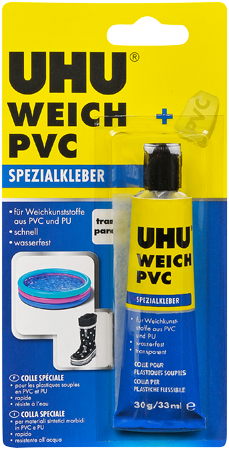 UHU SOFT PVC 30G BL.
transparent special adhesive for repairing and gluing of soft plastics
fast with exceptional bonding strength
UV-resistant, does not become brittle
packaged in a repair kit with a transparent PVC foil
UHU special transparent soft PVC is the quick-setting adhesive for repairing soft PVC items and bonding soft PVC. Suitable for visible glue joints on transparent materials. Not suitable for PE, PP and Styrofoam®. UHU soft PVC repairing adhesive has exceptional bonding strength, is UV resistant and does not become brittle. Temperature resistant from -30°C to +70°C, as well as oil, water, alcohol, diluted acids and bases resistant. Packaged in a repair kit with a transparent PVC foil.
| Container | Content |
| --- | --- |
| Tube/Blister | 30g |
Materials
Glues soft-pvc and all usual soft-plastics including rubber boats, water balls, air mattresses, raincoats, etc. Not suitable for Styrofoam®, PE nor PP.
Use and Handling Instructions
Surfaces must be thoroughly clean, dry and free of dust and grease. Apply a thin and even coat to both parts of the assembly - porous materials possibly several times. Let dry. Once dry to the touch (within approx. 10 minutes), press the parts together briefly and firmly. After assembling correction is no longer possible.
---
We Also Recommend
---