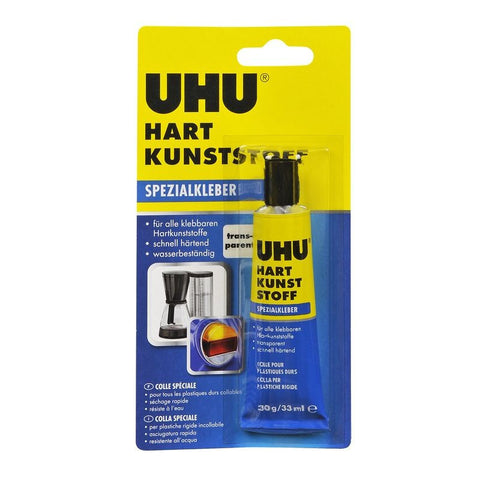 UHU HARD-PLASTIC 30G BL
usable for all common hard plastics
temperature resistant from -30°C up to +90°C
resistant to oil, water, diluted acids and bases
Crystal clear Special Adhesive for bonding of all common rigid plastics like ABS, PVC, acrylic glass, polycarbonate, also in combination with wood, paper, metal, glass und ceramics. Resistant to water, oil und diluted acids und bases.
| Container | Content |
| --- | --- |
| Tube/Blister | 30g |
Materials
Glues PS, ABS, SAN, SB, ASA, PVC, PMMA, CN, CAB, PC also in combination with phenolic resins (Bakelite®), melamine resins (Resopal®), glass fiber and reinforced polyester. Not suitable for Styrofoam®, PE, PP, PA, POM, PTFE, silicone.
Use and Handling Instructions
Surfaces must be dry and free of dust and grease. Apply adhesive to one side of the assembly or to both if the materials are uneven. For hard, enclosed surfaces, let adhesive dry for 3-4 minutes, then re-apply to one side, place the parts together and hold in place.
---
We Also Recommend
---