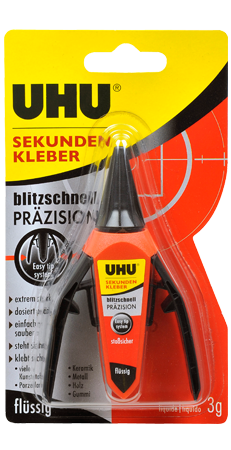 UHU GLUE STICK SEK PRAZISION 3G LIQUID
with ''easy tip system''
precise dosage
clean and easy to apply
safe standing and shock-resistant container
Extra strong super glue with highly precise dosage system for easy and clean application. Liquid adhesive to reach the smallest corners and joints. Safe standing and shock-resistant container.
| Container | Content |
| --- | --- |
| Container | 3g |
Materials
Glues many plastics, porcelain, ceramic, metal, wood and rubber. Not suitable for leather clothing, PE, PP nor styrofoam.
Use and Handling Instructions
Surfaces to be stuck together must fit exactly and must be dry and free of dust and grease. Apply a thin layer of adhesive to one side. The thinner the film of adhesive, the stronger the bond. Press the parts together immediately and hold in place for a short time. Breathing upon the surfaces to be stuck will speed up bonding. After use, wipe the applicator tip dry and close firmly. Will last longer if stored in a cool place.
---
We Also Recommend
---